I am often asked "What kind of work do you do?".
My response, "I am an Oral and Maxillofacial Surgeon" is usually met with a look of curiosity and a follow up, "What's that?".
I briefly explain: "I perform mouth surgery and jaw and facial reconstruction."
This is really an oversimplification, so I want to share with you the extensive training oral maxillofacial surgeons undergo, and how to go about choosing your oral, maxillofacial, or implant surgeon.
Also, it's important to understand the difference between a dental surgeon vs. an oral surgeon.
Becoming An Oral & Maxillofacial Surgeon
An oral and maxillofacial surgeon is commonly referred to as an oral surgeon. Oral and maxillofacial surgery is a surgical specialty built on a foundation of dentistry.
All oral and maxillofacial surgeons are graduates from dental school and are initially dentists.
After finishing dental school, there are several options for specialty training that go beyond the expertise of a regular dentist. Specialties include endodontics (root canal treatment), periodontics (gum surgery), orthodontics (braces), pedodontics (dentistry for children), and oral and maxillofacial surgery.
Specialization In Oral/Maxillofacial Surgery
The specialty of oral and maxillofacial surgery requires an extensive period of hospital-based training ranging from 4-6 years. During this time frame, the oral and maxillofacial surgery resident will spend time in many areas including anesthesiology, internal medicine, emergency medicine, ICU (intensive care), general surgery, otolaryngology (ENT) plastic surgery and neurosurgery.
Additionally, an extended period of time and concentration is spent developing expertise and experience specifically relating to surgery of the mouth, jaws and face, including:
Dental Implant Surgery
Bone Grafting
Wisdom Tooth Removal
Corrective Jaw Surgery (Orthognathic Surgery)
Facial Trauma
TMJ Surgery
Pathology & Reconstruction
Facial cosmetic Surgery
A Dental Surgeon And An Oral Surgeon Are Not The Same
A dental surgeon is a regular or general dentist (GP). A GP will typically perform various procedures throughout their day including tooth whitening, veneers, restorative dentistry, crown and bridge work, root canals and some oral surgery, but the oral surgery is never the sole focus of his or her practice.
On the other hand, an oral surgeon is a specialist with an extensive, concentrated and dedicated course of surgical training who performs surgery, and only surgery, on a daily basis.
While the office of an oral surgeon appears on the surface to be similar to a dentists office, the equipment and instrumentation is always more extensive and specialized, allowing the oral surgeon to perform procedures more quickly, often more delicately and precisely, and more comfortably.
Additionally, oral surgeons have extensive training in anesthesiology and therefore they can offer intravenous sedation to optimize the comfort of your treatment.
What Is A Diplomate Of The American Board Of OMFS?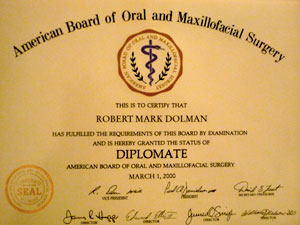 Upon graduation, an oral and maxillofacial surgeon is qualified to practice. However, board certification is a marker of a specialist who is recognized by his peers as having achieved the highest standards within the profession.
A Diplomate of the American Board of Oral and Maxillofacial Surgery is exactly the same as being "Board Certified". This title is acquired with a great deal of dedication and hard work above and beyond the regular educational program of an oral surgeon.
The board certification process requires the oral and maxillofacial surgeon to undergo a series of requirements and examinations in order to acquire board certification status. The first requirement is submission of cases covering a broad area of surgical expertise. The second hurdle is an intensive written examination, and the third level is a lengthy oral examination. The status of "board certified" is evidence that the oral surgeon has met the highest requirements of competence within the field of oral and maxillofacial surgery.
How To Choose Your Oral, Maxillofacial, And Implant Surgeon
Now that you know about the educational background, how do you choose your oral, maxillofacial, or implant surgeon to ensure that your procedure is a success?
Frankly, the most important factor in the success of your procedure is the surgeon that you select.
Firstly, you want to make sure you are actually being treated by an oral surgeon. Any dentist can perform oral surgery, but they are not oral surgeons. That is why the "Board Certification" status is so important. It truly identifies your surgeon as a verified and certified oral surgeon who has achieved the highest credentials and standards within the profession.
Second, it's important to recognize that not all oral surgeons are board-certified, which gives you greater assurance that your surgeon is competent to handle your case.
Finally, above all, you want an experienced surgeon who is caring and compassionate with sound surgical skills and judgment.