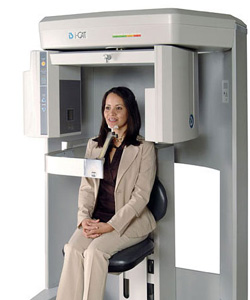 As part of Dr. Robert M. Dolman's commitment to scientific excellence and his caring approach to patient treatment, our office is among the few oral surgery practices in the New York metro area that has an onsite i-CAT Scanner.
Our i-CAT Scanner is the leading Cone Beam 3-D Dental Imaging tool that provides Dr. Dolman and our staff with high-definition, digital imaging that exposes our patients to less radiation and a typical scan time of only 8.5 seconds. The i-CAT's computer controlled software then delivers critical anatomical information typically in less than a minute.
Only used when deemed necessary, this powerful imaging technology delivers high-quality information on any of the patient's facial features, helping Dr. Dolman develop the most informed and accurate treatment plan – thus shortening the treatment duration for enhanced patient comfort.
How We Use The i-CAT Data
Once we've generated the 3-D scan, it will complement Dr. Dolman's assessment of the optimal implant treatment and placement and help select of the most suitable implant type, size, location, and angulations prior to surgery.
3-D images also assist in determining if bone grafting or a sinus lift is warranted in areas of insufficient bone for the implant procedure.
Determine the precise tooth position, so that the desirable impaction within the mouth can be visualized, evaluated and optimized relative to adjacent teeth and other vital structures.
Detect and evaluate problems before they become serious, for example by accurately measuring bone and jaw changes, or detecting abnormal mouth pathologies.